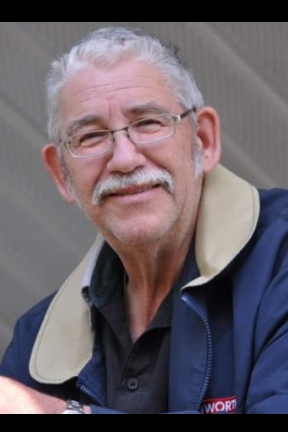 Ron Hergott
It is with heavy hearts, the family announces the loss of Ronald Willard Hergott of Hanover. He passed away peacefully at his home on Marl Lake, on Thursday, May 5, 2022, at the age of 75.
Born on March 29, 1947 in Kitchener, Ontario, to the late Willard and Clara (nee Mosburger) Hergott. Ron was a man of many talents, and a man that lived life to the fullest, enjoying every moment he could. He saw many miles of roads during his long career as a truck driver, and enjoyed the many places he got to visit, and the people he got to know. After his retirement, he also enjoyed the rewarding experience continuing in transport services while working for Saugeen Mobility. He was a dedicated man of his faith, and served many years as a Knight with the Knights of Columbus, earning 3rd Degree status. Ron was also very generous with his time, always willing to lend a hand to anyone in need. But no matter what, the most important thing to Ron from the start to the very end of his life, was his family. He was very proud of his 4 children, and his many grandchildren, and loved spending any time he could with those he loved. He will be dearly missed by many people.
Survived by devoted wife Laura (nee Gerber) of Hanover. Loving father of Tony (Jenn) Hergott of Baden, Diane Hergott (Rob) of Milverton, Gary (Lisa) Hergott of Newbrook, Alberta, and Mary (Jamie) Martin of Elmira. Fun loving papa of Mikayla, Jayde, Tehya, Sheldon, Tristan, Colton, Coby (Sara), and Natalie. Fondly remembered by brothers-in-law Wilmer (Marjorie) and Ray (Elizabeth) Gerber, and sisters-in-law Doris (Wayne) Zehr, and Doreen (Rick) Gingerich, as well as many nieces, nephews, and their families. Predeceased by his parents.
Visitation will be held at Mighton Funeral Home, Hanover, on Sunday, May 8, 2022, from 2-4 & 6-8 pm. A Funeral Mass will be held at Holy Family Church, Hanover, on Monday, May 9, 2022 at 11 am. Father Paul Edmondstone officiating. For those unable to attend the service, the Funeral Mass will be live streamed directly on the obituary page on our website, and through the Mighton Funeral Home YouTube Channel at: https://www.youtube.com/channel/UCgVh0M6i_KsMshDMLdWRDQw The live stream will start approximately 5-10 minutes prior to the service - at that time, please look for the live video post on the obituary page on our website or the Funeral Home YouTube Channel to join the service. For people unable to join at the time of the service, the live stream video will remain posted and available for viewing afterwards. Interment in Holy Family Cemetery, Hanover.
Memorial donations to the Holy Family Church Fund, or Ride for Dad (https://ridefordad.ca/) would be appreciated as expressions of sympathy.
VIDEO: Funeral Mass - Monday, May 9, 2022 - 11 am
VIDEO: Slideshow Tribute Video
Public Condolences
Laura and Family,
John and I are saddened to hear of Ron's Passing. We have missed your fellowship with the Happy Twirlers. Our condolences.
John Stemmler and Norma Khan

— Norma Khan

May 15, 2022
Our condolences to you Laura and family. Our prayers and thoughts are with you and the family at this difficult time.
Dianne and Larry
— Dianne & Larry Schafer

May 12, 2022
Laura and Family. We are sorry to hear of Ron's passing. Our sympathy and prayers for comfort.

— Dave &Carol Schwartz

May 11, 2022
So sorry to hear about your husband passing Laura, You and your family will be in my prayers.
— Dianne Forsyth

May 10, 2022
Laura,
Condolences to you and your family. God's peace and comfort be with you.
May you be sustained as you smile at your good memories, celebrate the life Ron lived, and recall the joy he brought to you.
"What the caterpillar calls the end of the world, the Creator calls a butterfly."
Elaine leis
— Elaine Leis

May 10, 2022
We're hoping that the passage of time will somehow help to ease your sorrow and that loving memories will bring you comfort. Prayers for you and your family.
— Jim and Lois Jackson

May 9, 2022
Laura and family,
So sorry for your loss. Thinking of you at this sad time.
Linda & Bill Schumm
— Linda Schumm

May 9, 2022
To Laura and Family
We`re very sorry to hear of your loss ,our thoughts and prayers are with you all
— Elwood Wagler

May 9, 2022
My thoughts & prayers are with you Laura & family! Sorry I couldn't make it to the visitation!
— Mary Zehr

May 9, 2022
Deepest sympathies to you Laura, and your family.
Debbie & Brian Lester
(Carolyn Shaw's daughter)
— Debbie & Brian Lester

May 9, 2022
Sincere Sympathy to Laura and your entire family. May your fond memories help you through difficult times. Our thoughts and prayers are with you.
— Garry and Judy Schweitzer

May 9, 2022
Dear Mary, Jamie, Coby, Natalie and family. Our sincere condolences are sent to you at this sad time. May your wonderful memories provide you comfort in the days ahead. We are sorry we cannot be there with you today, sending you hugs and caring thoughts. Darrell, Leigh, Evan and Taylor Rees
— Leigh Rees

May 9, 2022
We will miss Ron and his smile. We have great memories of square dance trips, breakfasts and dinners at KC hall, camping, card games and just visits . I'm know your family will lean on each other as you grieve your loss. May God bring you peace at this time knowing he is in a better place and will be looking down and guiding you from above.❤️
— Doug and Sheila long

May 8, 2022
I am so sorry for your loss. Thinking of all of you during this difficult time. Your in our thoughts and prayers
— Cathy Steckly

May 8, 2022
Laura, Tony, Diane, Gary, and Mary Beth and family,
Many blessings and heartful hugs for the loss of your wonderful husband and father. My father and Ronnie had a wonderful friendship since 1947 as well as being a cousin. I remember when I was a child and my family was having lunch at Ron's parent's home. Ronnie sat next to me and kept teasing me about eating more limberger cheese. He just wanted my breathe to smell as bad as his did!
Ronnie will be missed very much by all his family.
Hugs and much love, cousins.
Deborah L. Perrin
— Deborah L. Perrin

May 8, 2022
Ron and I joined the Knights at the same time and we went together
to the 2nd and 3rd degrees. He was a very pleasant man who liked to
laugh. God bless Ron keep up the smiles. You will be missed.
Pat Murphy Hanover









— Pat Murphy

May 8, 2022
Dear Hergott family et al,
Our deepest sympathy. May the peace of God surround you all during this time of loss. But also to remember Ron's Blessed life and all the amazing memories that will be kept in your hearts and minds forever.
"When I fall, I shall arise; when I sit in the darkness, the Lord shall be a light unto me" ~Micah 7:8
We love you all! Sending prayers and a big hug, Marianna and Jeremy Kittel from Waterloo, ON
— Jeremy & Marianna Kittel

May 8, 2022
Condolences to the Hergott family…we will miss seeing Ron and Twila walking down the road.
May your good memories and the love, care and support you have from each other and from friends, help you to journey through this sad time.
Thinking of you all.
Dave & Lorna 😘
— Dave Hocking & Lorna Eadie Hocking

May 8, 2022
Our deepest sympathy to Laura, Tony, Diane, Gary, Mary & their families.
May your cherished memories help you through this difficult time.
Our thoughts are with you. Sending warm hugs.

Dory & Kevin Bearinger & Family

— Dory Bearinger

May 8, 2022
Just met Ron a few weeks prior of his passing as I was his PSW. Sending my condolences to Laura and family.
— Eric Schwippl

May 6, 2022
Dear Laura, we are so sorry to hear of Rons passing. You and your family have our heartfelt sympathy.
Sharon & Goldie.
— Sharon Tilker

May 6, 2022
So sorry to hear of Ron's passing Laura .You and your family our in our prayers .
— Al & Joan Boyce

May 6, 2022
Laura, I am sorry to hear of Ron's passing. My sympathies to you and your family.
— Kathy Grainger

May 6, 2022
The Colley family sends our deepest condolences to the Hergott family during this difficult time. Our thoughts and prayers are with the family.
— Darren & Brittany Colley

May 6, 2022
Laura and family

Our deepest sympathy at this time. He was so welcoming and helpful when we started square dancing. His smile was contagious He has run the race well and is enjoying his heavenly retirement, and probably dancing up there Keeping you in our prayers
— Ab and Faye Boogerman

May 6, 2022
Sending prayers and condolences to Laura and the Hergott family
He will be greatly missed
Dan Dorothy O'Connell
— Dan an Dorothy O'Connell

May 6, 2022
On behalf of the staff of Lifelabs , I wish to convey our most sincere condolences to you Laura .
— Mary Lynne Marshall

May 6, 2022
Words always seem so inadequate at a time like this
Remember all the happy and treasured memories to get through this difficult time!

Sending warm hugs to each of you
Mary
— Mary Carter

May 6, 2022
So sorry for your loss ❤️ Hergott family
Your in my thoughts and prayers 🙏
— Abe and Catherine Reimer

May 6, 2022