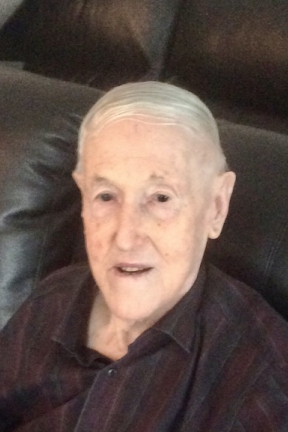 John 'Jack' Speer
John 'Jack' Beverly Speer, of Hanover, passed away at McVean Lodge, Hanover on Monday, June 6, 2022. He was 94.
Born in Owen Sound on April 24, 1928 to the late Albert and Nellie (nee Minary) Speer. John, better known as Jack, worked for the Canadian National Railway for 26 years, before transitioning to work as a letter carrier with Canada Post for 14 years. He was a quiet family man, and enjoyed a simple life.
Survived by children Dennis (Dana) Speer of Peterborough, Dianne Speer of Hanover, Douglas (Cheryl) Speer of Hanover, Jeffery (Penny) Speer of Mitchell and Scott (Tammy) Speer of Barrie. Loved grandfather of Danielle (David), Deborah, Lindsay (Brandon), Nathan (Leah), Jordan (Jennifer), Tyson (Kaitlyn) and Colton and great grandfather of Dawson, Daxton, and Raelynn. Fondly remembered by his sister Peggy Ruff. Predeceased by his parents, wife Hazel, and 6 brothers and 3 sisters.
A public visitation will be held at Mighton Funeral Home, Hanover, on Monday, June 13th, 2022, from 10:30 – 11am. A private family memorial service will follow. Rev. Micol Cottrell officiating. Inurnment in Hillcrest Cemetery, Tara.
Memorial donations to the Hanover & District Hospital Foundation or Canadian Cancer Society would be appreciated as expressions of sympathy.
Public Condolences
Our deepest condolences to the Speer family
— Mark Ostland & Stacy Ostland

June 16, 2022
Sending our sympathy to the Speer family on the passing of Jack. Thinking of you.
— Gary Yost and family

June 15, 2022
Rest In Peace


— Mark Winkler

June 15, 2022
Just learned the sad news about Jack's passing and we just wanted send our sincere condolences to the Speer's family during this time of sorrow. You had a great dad and I'm sure you have many memories to cherish.

Chris, Lesia, Jordan and Nathan Ahrens
— Chris

June 14, 2022
To Uncle Jack's family - Thinking of all of you and sending my sincere condolences during this time. May you be comforted in having each other to remember and reminisce about your Dad.

June Meyer (Ruff)
— June

June 14, 2022
Dennis, Dianne, Doug, Jeff, Scott and families -
Uncle Jack was always such a kind and special person and I hope all the wonderful memories will help to bring peace and comfort at this sad time.
Sending love and hugs to all!
Sincerely,
Shirley Weppler
— Shirley Weppler

June 14, 2022
Such a strong heart in a strong man! So many great memories to hold tight.
With deepest Codolences to the Speer families!
Love & Hugs!!
Peggy Ruff & Nancy D
— Nancy

June 14, 2022
To Jack's Family. Our sincere condolences. I have lots of fond memories of Jack at the Speer picnics & get togethers. Jack always had a smile.
— Tom & Karen Sweiger

June 13, 2022
Jeff Penny, Jordan Jenn, Tyson & Kaitlyn,
Please know that you are all in our thoughts in the loss of your Father & Grandfather. We are never "ready" for these tragic events & we hope you are able to keep all the wonderful memories of your times together at the forefront as you share this time with your family. Sending love & hugs, Brenda Dan, Spencer Amy Claire & Jack xoxo
— Dan & Brenda Bannon & Family

June 12, 2022
To Jack's Family, We will miss our Uncle Jack. He was an Uncle and a close friend. He taught my Dad to fish, me to shoot a 22, and he thrilled me with how fast C.A.'s 39 Chev would go. A Life well lived, and he will continue to live in everyone's Heart!.
Love, Glenn & Connie










— Glenn & Connie Fenton

June 11, 2022
My deepest condolences to the family for your loss. I will always remember Uncle Jack. The brightness of his smile, the goodness of his soul will always stay in my heart. Uncle Jack you will be dearly missed. Sending love and prayers to you all at this difficult time.
— Arlene Taylor

June 11, 2022
Sorry for loss Doug and Cheryl. Our condolences to you and your family.
— Brian and Jane Haack

June 10, 2022
I worked with your father, for many years. He was a pleasure to work with, always had that little smile, and a kind word for everyone. Jack always went home for lunch, every day, which is something that stands out in my memory. Another one was when your parents began going to Florida each year; that first year they went in January, and he said the it was too hard to get used to the cold again, and that from then on he would be going in March. A wonderful man.
— Peter Koebel and Gail Murray

June 9, 2022
Please accept my sincere sympathies
So sorry for your loss.
— Marlene Lipskie

June 9, 2022
My deepest condolences to everyone. Ive had the pleasure of knowing jack during his stay at McVean lodge. He was such a sweet, kind man who will be missed by many.
— Tanya

June 9, 2022
It is often hard to know what to say but I will do my best. Uncle Jack was one of a
kind. He was a gentle loving and passionate man who cared deeply for his family as he often told me in our conversations. He was a great father, husband and brother. I remember as a child stories of their fishing trips - some quite hilarious especially the ones where they went smelt fishing at Sauble. - filling the trunk of the car with smelt and cleaning them with the wringer washer.
Even though I hadn't talked to him for awhile he was always in my heart. Rest in peace Uncle Jack
— cheryl wilson

June 8, 2022
Jeff and Penny, family

So sorry to hear of your fathers passing. Keep the good memories in thought as you go this trying time. Our deepest condolences.
— John& Mary Huenemoerder

June 8, 2022
Hi Dennis
So sorry to hear of the passing of your father. Our sincere condolences to you and all your family.
Lorraine & Al
— Al & Lorraine Morrow

June 7, 2022
Sad to learn of Jack's passing. Sending condolences to all of Jack's family and friends. RIP Jack
— Jamie Winkler

June 7, 2022