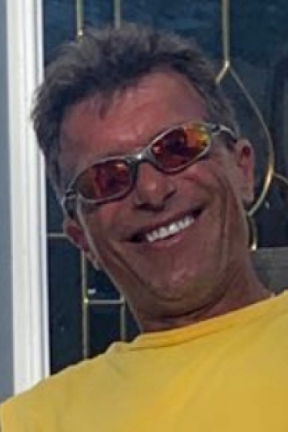 Michael Dunne
DUNNE
Michael John Dunne, of Alliston, passed away peacefully with his family by his side, after a brief illness at Royal Victoria Hospital in Barrie on Monday, June 13, 2022. He was 63.
Born on April 29, 1959 to John "Jack" and Molly (nee Lutz) Dunne. Michael was employed with Honda Manufacturing Plant for over 24 years and will be remembered by many coworkers and Management. He was an avid golfer and loved escaping to the great outdoors. He could be found fishing, hunting and even riding around on his motorcycle.
Survived by father John "Jack" (MaryAnne) Dunne, of Hanover. Remembered by his siblings Dianne (Francis) Gross of Kitchener; their children Lisa (Jay) and David (Leanne) and their family, Dan (Sue) Dunne of Walkerton and their children Sonja, Tom and Mikayla (Tyson) and their family, Terry (Gail) Dunne of Kitchener and their family. Predeceased by his mother Molly (nee Lutz) Dunne.
Family and friends are invited to Visitation held at Mighton Funeral Home, Hanover, on Thursday, June 16, 2022 from 5-8pm. A Funeral Service will be held at Mighton Funeral Home, on Friday, June 17, 2022 at 11:00 am. Father Emmanuel Azike officiating. Interment to follow in Holy Family Cemetery, Hanover.
Memorial donations to the Canadian Cancer Society would be appreciated as expressions of sympathy.
Public Condolences
Mike was a great guy....lots of fun....good ball player too. Our condolences to family and friends.....O.V. Elbow Benders
— Ian Mills

June 24, 2022
To Mike's Family and Friends
We are so sorry to hear of his passing. He was a great guy and will be missed
— Pat

June 20, 2022
Sorry for your loss
— Valerie Wettlaufer

June 20, 2022
My condolences
To
The
Family I grew
Up with
Mike he
Taught me
How
To water ski
At
Marle
Lakes great guy
— Wayne

June 18, 2022
We just heard, can't believe it, we are in shock. Our deepest condolences to the family. Mike was an amazing person, we just saw him recently actually he dropped by before going to dinner at his dads. Yes we had great times with Mike, on the boat at Sauble, camping, went to Dominican with him, What a shame for him to go so young. Again, our sympathies.
— Clare and Deri Russell and family

June 18, 2022
To Jack, Mary Ann and families, we are so sorry for your loss of a son and brother.
You are in our thoughts and prayers
— Jack and Ellen Cavill

June 17, 2022
My deepest condolences to your family for such an immense and great loss. I never had the grace to meet Michael but Gail and Terry spoke so highly of him and they loved him so much. Treasure the memories you have, they last forever, as does Michael in your hearts ❤️
— Christianne Child

June 17, 2022
To Jack, Maryanne and all of Mikes siblings
Please accept our deepest and most sincere condolences
on the passing of a son brother and uncle.
Thoughts and prayers to you.
Bernice and Ian McDougall
— Ian McDougall

June 16, 2022
My deepest condolences to the family. Mike will be casting lines with Glen at the side of the river bank in the sky!
— sophia valad

June 16, 2022
My condolences to all the family I worked with Mike for 20 years great guy❤❤
— Bruce molyneaux

June 16, 2022
I am very saddened to hear of Mike's passing. He lived life to the fullest and packed a pile of fun into his 63 years. He will be in Molly's arms now.
My deepest heartfelt condolences to Jack, Mary Ann, Dianne and Francis, Dan and Sue, and Terry and Gail and families. He was taken much too soon.
— Ang

June 16, 2022
My Condolences to all the family.
I had the chance to work with Mike when he was at Pepplers Furniture.
He loved his weekends on his boat.
Have not seen Mike for many years but I still do have great memories working together.
— Wayne David Sickel

June 16, 2022
Sincere condolences to Mikes dad n family,,we had the pleasure of knowing Mike for 6years and we will always remember his kindness,respect and his smile,I will dearly miss hearing his footsteps on the stairs,his "Hi Shirl" his beautiful planters in summer and Charles will miss their many chats outside,you will be greatly missed n always remembered,Rest Peacefully,Mike.
— Shirley n Charles Flynn

June 16, 2022
So sorry for your loss of Mike. i have wonderful memories of Mike and Rambo and i have no doubt that Rambo will be wagging his tail to great you Mike
RIP

Marsha Hehn
— marsha hehn

June 16, 2022
We have lots of great memories going up, lots of boating and skiing in Honey harbour,and on Arron Lake, RIP cuz, Our deepest sympathies to Uncle Jack and MaryAnn, and to Diane, Dan and Terry and families, love ya all Lori&Ron and Family ❤️
— Lori

June 16, 2022
Sincere Condolences on the loss of Mike ,shocked to read this.....Jack, (MaryAnne) Dianne and Terry and all your families want you to know I am thinking of all of you and express my deepest regrets....Hugs, Judy
— Judy (Allen) Murpy

June 16, 2022
Dan and Sue So sorry for your loss he is gone way too soon
— Cathy Murray

June 16, 2022
As a neighbour and friend for many years you will be dearly missed.
Sincere condolences from our family to yours.
R I P Mike.
— Al Zammit

June 16, 2022
What a sad lost, away too soon.
— Bob Nancie Thompson family

June 16, 2022
Dan and Susan: What moves through us is a silence, a quiet sadness, a longing for one more day, one more word. We may not understand why Mike left you before you were ready to say goodbye. But little by little, you will begin to remember not just that he died,
But that he lived. His life gave you memories you will always remember.
Our Sincere Condolences.....Kelley, Cheyen and Shirley
— Kelley Davies

June 15, 2022
You were our friend. The many conversations, motorcycling with Bill, many cups of coffee with him at Tim's. You were a very stand up guy an example to all of us. Gone to soon… a shock to us all. Rest In Peace.
God's comfort to your family as they grieve your loss.
— Bill and Ruth Flynn

June 15, 2022
I had the pleasure of working with Mike for many years at Honda and we became great Friends. We lost touch over these last few years so this was hard to hear. My sincere condolences to Mike family. Always remembered, Rose
— Rose

June 15, 2022
You were taken Way too soon Cuz! You will be greatly missed by many! I was so happy to hear that you were retiring soon, You had so much more living to still do! I am so saddened that it was cut short on you.
You rest easy … I will miss you…

Sending my condolences love and support to the whole family!
— Stacey Pritchard

June 15, 2022
Mike you were my cousin by blood, but my dear friend by choice. I will always remember our dinners, conversations and debates. You will be missed but never forgotten cuz..love ya...Shirl
— Shirley Pritchard

June 15, 2022