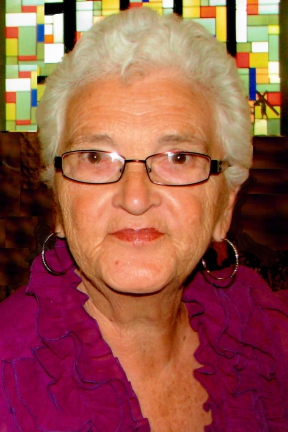 Liz Kueneman
Mary Elizabeth "Liz" Kueneman, of Hanover, passed away at Hanover and District Hospital on Sunday, July 31, 2022. She was 85.
Born in Durham Ontario on November 29, 1936 to the late Walter and Catherine (O'Neil) Schafer. Many will remember Liz as Mrs. K while in the classroom. She had a special way of teaching that really helped her students along. She had a love for youth, and was the leader for the Hanover & District School Band. She was so proud when they won the Nationals in Ottawa, which allowed them to perform at the Expo in 1967. She dedicated her time not only to her family, but her extended family at school and various activities that involved youth like Hanover Minor Hockey and the Hanover Figure Skating Club.... she was always their number 1 Fan.
Survived by husband Gerald "Jerry" Kueneman of Hanover. Loved mother of Mark (Karen) Kueneman of Middlemiss, Grace Ann (Todd) Clarke of Clifford, Gregory (Carmen) Kueneman of Calgary, Alberta, and Elaine (Rick) Brown of Hanover. Loved Nana of Patrick (Sam), April (Nick), Gillian (Kevin), Alex (Marco), Tricia (Curtis), Haley (Steven), Brady, Coty (April), Jacob (Jillian) and Jocelyn. She was blessed with the love of her grandchildren and even more so with her great grandchildren, who affectionately called her "Bibbis". Missing their Bibbis; Evelyn, Lyla, Frances, Jaylen, Madelyn, Peyton, Dante, Esme, Tatum, Emersyn and Boone. Fondly remembered by her siblings John (Ev) Schafer, Larry (Dianne) Schafer both of Hanover, Gerry (Lorna) Schafer of Toronto, Carl (Lucretia) Schafer of Durham, Michael (Diane) Schafer of Ithaca, New York, and by her sister in law Linda Schafer of Durham. She will be missed by her many nieces, nephews and their families. Predeceased by her parents, brother Dave Schafer and sisters Catherine Schafer and Dorothy (Orville) Mead.
Family and friends are invited to a Memorial Visitation held at Mighton Funeral Home, Hanover, on Thursday, August 4, 2022 from 2-4 & 6-8pm. A Funeral Mass will be held on Friday, August 5, 2022 at 11 am, at Holy Family Church - Hanover. Father Romelito Guillen officiating. Cremation has taken place with Inurnment to follow in Holy Family Cemetery, Hanover.
Memorial donations to the charity of your choice would be appreciated as expressions of sympathy.
"When you die, that does not mean you lose to cancer. You beat cancer by how you live, why you live and in the manner in which you live. So live, live, fight like hell. And when you get too tired, lay down, rest and let someone else fight for you."
Public Condolences
I worked with Liz at the Annual Minor Hockey All star games she devoted so much of her time to Hanover Minor Hockey she will be missed
— Calvin Harrington

August 12, 2022
My deepest condolences to the family. Few people come into your life and make an impact on you the way Mrs K did. I never had the privilege of having her as a teacher but through field trips and the playground, I got to know her as a kid. She said in touch over the last 30 years, even calling me to share the news of the recent queen movie. She was a constant reminder of how great some people could be. I will miss her dearly.
— Martin Antoine

August 11, 2022
We moved across the street from Liz and Jerry when we moved to Hanover in the summer of 1967.. Liz was one of the first people we met and was a great neighbour... My condolences to the family on your loss Varley Weisman
— Varley Weisman

August 10, 2022
To Gerry and Family; I just now noticed the obituary for your wife and mother "Liz." She truly was a remarkable lady. I joined the Hanover High School Girls Marching Band as a young girl and had the honour to be instructed by both of you for a short time.
Then as a resource teacher at James A. Magee, I had the opportunity to work with Liz. She often visited my office and we had many educational conversations. I loved her enthusiasm for teaching her students, and how she truly cared about the entire school staff!
I hope your precious memories will keep her close to you!
Sincerely Elaine Dippel Baetz
— Elaine Dippel Baetz

August 10, 2022
Grace Ann, Todd and family,
So sorry to hear of Liz's passing. She was my grade 6 and music teacher at James A. Magee. She has a place in many locals hearts as a caring educator and sports fan. We watched the Canadian hockey team play the Russians in her classroom during social studies.
There are no words,
Randy and Betty Hutton
— Randy and Betty Hutton

August 9, 2022
Our sincere condolences
Thinking of you❤️
— Cheryl and Jevin Lahn

August 9, 2022
Amazing Lady. She will be missed. Condolences to the family from the Pette family.
— Steve Pette

August 8, 2022
So sorry to hear of Liz passing away I worked for many years with Liz at James A Magee She was a competent and reliable staff member with unbelievable energy! She will not be forgotten.
Condolences from the Duncan family.
Betty Duncan
— Betty duncan

August 8, 2022
Kuen, Sis, Greg, Grace Ann and families,
My heart is with you all as you mourn your matriarch's passing. Few people had such a strong positive influence in guiding so many young lives for so long. It is a blessing to have known Liz and to see her spirit so strong in such an amazing family.

— Dave Price

August 7, 2022
Our sincerest condolences to Jerry and the entire Kueneman and Schafer families on Liz's passing. We have loving memories of this gracious and elegant lady. Cousin Carolyn and Scott
— Carolyn (Weaver) and Scotf Thibaudeau

August 7, 2022
Jerry,: My condolences ti you and your family at this difficult time. Liz was an important part of our high school life. Our thoughts and prays are with you.
Reta

— Reta Sproule

August 6, 2022
To Jerry and family
So sad to hear of your loss,
— Ruth &Mike Joseph

August 6, 2022
Sincere sympathy to Schafer and Kueneman families, Liz will be missed by all who knew her. Pat Mighton and family
— Pat Mighton

August 6, 2022
Mark,Greg and family Liz was a great person I send my condolences to the whole family may Liz RIP
— Charlie Seim

August 5, 2022
Dear Jerry and family:
Memories are something we hold dear and of someone we love to keep to
them near
Memories will not fad or go away
Those memories in our heart will forever stay.
I am sure Liz taught my 3 daughters and I remember Jerry and Liz when they
were at the trailer park in Port Elgin.
I am getting together with my youngest daughter to-day, so I will ask her what
grade she was in when Liz taught her.
My most sincere condolences to all of her family.
Linda Barfoot
— Linda Barfoot

August 5, 2022
To the family of one of the greatest teachers I ever had, many condolences and prayers. Mrs. K was always there to show you that she cared and you felt special in her class. I remember meeting her in the community so many times after being my teacher and always had something kind to say about you.
Heaven bless Mrs. K . Annette Wiseman
— Annette Wiseman

August 4, 2022
Liz was one awesome person!!!!!!! She will not be soon forgotten.
— Eleanor Lamont

August 4, 2022
Our deepest sympathy to the Kueneman and Schaefer families. Liz was a wonderful soul and an amazing mentor to so many! She touched so many lives and leaves so many great memories to all who had the honor and privilege to know her! Sending you all a big hug! She will certainly be missed!
— Tim & Linda Dunbar

August 4, 2022
Our prayers and Sympathy go out Jerry and Family
— Marilyn Schinbein Bill Schinbein

August 4, 2022
With deepest sympathy to Jerry and family on the passing of Liz. She was a strong woman, and well known for being a great teacher. always had time to stop and talk when we met. Lots of memories but will be missed.
— Gary and Aline Yost

August 4, 2022
Our most sincere condolences to the entire Kueneman Family with the passing of Liz.
— Smoke Kormann & Robin

August 4, 2022
Dear Jerry and family
I am so sad to hear that Liz is no longer with us.
There are so many memories I have of both of you, especially as a member of the Hanover District High School marching band.
Loved you both in my life.
My sincerest condolences
Audrey Morrow
— Audrey Sylina Morrow

August 4, 2022
To Grace Ann, Elaine and families, I am so sorry for your loss. Sending hugs.
— Ellen Cavill

August 4, 2022
Grace Ann and Elaine and families, So sorry to hear about your Mom. Sending our sincere condolences. Cherish your memories. Cathy and Lee Meyers
— Cathy Meyers

August 4, 2022
We are sorry to hear of Liz passing we had many years working together with Hanover Minor Hockey.
— John and Gail Ermel

August 4, 2022
Our most sincere condolences to all of the Schafer and Kueneman families.
Liz was one special lady! She will be missed by so many.
Prayers to her all of her family and friends as they go through this difficult time. May we all find peace in knowing how much she was loved. Rest in peace Liz.
❤❤

— Lloyd and Brenda Dunkerley

August 3, 2022
Our thoughts and prayers are with the
Kueneman family at this difficult time
— Bob & Jean Schlorff

August 3, 2022
Jerry, Mark, Grace Ann, Greg, Elaine and families - sending you our sincere condolences on Liz's passing. She was a strong, positive, energetic and loving wife, mother and grandmother who supported her family, friends and the community. Take comfort in your memories of shared experiences with Liz during the difficult days ahead.
— Mike and Nadine Schwandt

August 3, 2022
Elaine and Family :
With deepest Sympathy. Thinking of you at this difficult time.
— Jim & Gail Knipe

August 3, 2022
I was very sad to hear about the passing of Liz. Condolences to you Jerry and all the family. Liz was my Gr 3 teacher at Holy Family School, a very young new teacher, probably 65 yrs ago. She was kind, understanding and a very fair teacher loved by all. In my high school years I was lucky enough to be in the HDHS girls band with Liz and Jerry as our directors and mentors. One of the most memorable times in my younger life. Thank you to Liz for having such an impression on me. I know she will be greatly missed. RIP
— Sue Robbins (Schlatman)

August 3, 2022
Thank You, Liz, for being such a wonderful teacher.
— Lorraine Weiler

August 3, 2022
So sorry to hear of Liz's passing. I will miss the conversations over the fence. Her joy for life and her family was so evident in those conversations.
Linda and Andy Lehman
— Andy Lehman

August 3, 2022
Dear Family and Friends of Liz

I was so sorry to hear of her passing. I was the Jr. Majorette in the Durham Girls High School Band from 1952-56. Liz was in the band then too and became the head majorette. She was so friendly to me and gave me much help in learning to twirl - we did so well that I won second in the Cdn Championships for my age group. That aside, I always enjoyed speaking with her at practices and on band trips, although she was much older. She was very kind to me.

I was in Durham this summer for the reunion of the Band and wanted so much to see her, as so many of the other gals I had known were no longer with us. I was very disappointed that our paths did not cross. I was waiting to see her after the parade but then I heard she had returned home. I also hadn't known she was in the car near the float or I could have spoken to her before or after. I will forever regret not being able to tell her all these years later how much of an effect she had on my young life. (As well, as a young child, I always thought she was so beautiful!

From reading her obituary I understand how involved she stayed with bands and how much she must have loved it. It is too bad that I didn't know about the 2012 reunion where I could have spoken with her at length. I must say that although I never saw or spoke with her again after we left Durham when I was almost nine, I have often thought about her.

It looks as though she was surrounded by many loving family members. I trust she was the same kindly Mother, Nana and Bibbi that I remember. I'm sure she had a wonderful life and that you, her family and friends, will miss her greatly.
Please accept my deepest condolences on the loss of Liz. She made a lasting impression on me, and I am sure she has on you.
I am so very sorry…………..Arlene Hensel. ( nee Venn) (parents - John and Hilda)

— Arlene Hensel

August 3, 2022
Our deepest sympathies and prayers to Jerry and family. What an honor and privilege it was to work with Liz at James A. Magee. Her strength, positivity, love for teaching others became a role model for younger teachers. There will never be another person like Liz, she was a power house, always on the go, with endless amounts of energy, never stopping, always smiling and joking, and always caring about others. We will miss our friend dearly.
— Rob & Dana Davidson

August 3, 2022
Our deepest sympathies to you and your family at the loss of Liz. She was a wonderful woman who will be greatly missed. Dad, (Don Kerr) sends his condolences also. Barb Kerr Stevenson
— BARB KERR STEVENSON

August 3, 2022
We were extremely saddened to hear of the passing of Liz Kueneman. Clearly she was a woman who dedicated a lot of love and time to her family and her community. Liz will be greatly missed. Our thoughts and prayers are with Mark , Karen and the rest of the Kueneman family. Love Lynn and Norm Naisbitt
— Norm and Lynn Naisbitt

August 3, 2022
Sincere condolences to Jerry and family. Liz and Jerry were a big part of my high school years being in the Hanover Highschool Girls Trumpet Marching band. We got to travel so many places. I remember winning in Ottawa and the big trip to Expo 67 in Montreal. She decided to give me the honour of playing a solo at Expo and it was the most exciting thing in my life thus far. She was always so kind and acted like our mother. She will be truly missed. Jerry - keep on hanging in there. Lots of love.
— Brenda Allen (Becker)

August 3, 2022
She was the teacher that changed my life when everyone had gave up on me for being the trouble maker and didn't want to go to school she was the only one how believe in me and made sure I was there helping me anyway she code even bring me food because she now I had not eaten in days!
I will always remember that
— Trevor Ortman

August 3, 2022
So sorry to hear about the death of your mom Grace Ann and Elaine. Sending our sympathy to you and your whole family.
— Gib and Margo Haase

August 3, 2022
My sincerest condolences to Liz's family. Liz was a mentor and a wonderful colleague and teaching partner. We shared a classroom for several years. She hosted a wedding shower for me when many hardly knew me, supported me during my battle with cancer and so many memories it's impossible to list them all. Her calls at Christmas time were always special and uplifting. Liz, your spirit and love of family , friends and life will be greatly missed. Rest in peace dear friend.
— Maria &John Beckberger

August 3, 2022
Sending deepest sympathy to all at this sad time. Met Liz through Minor Hockey many years ago, she was quite a character. In the last few years, she would pass my house on her daily walks and would often stop to chat and we always found something to laugh about. My thoughts and prayers are with you
— Eileen Barrie

August 3, 2022
So very sorry for your loss, thoughts and prayers are with all of you.
— PAT SCHUETT

August 3, 2022
Our thoughts and prayers go out to the Kuueneman and Schafer family's for the loss of Liz. Her passing will definitely leave a hole in everyone's hearts that came in contact with her.
Dean Hopkins and Family.
— Dean Hopkins

August 3, 2022
Oh Jerry, my heart goes out to you and your family...with much love.
You and Liz were a huge and positive influence on those of us fortunate enough to attend HDHS and participate in band when you and Liz were it's enthusiastic prime movers.
God grant you that peace that passes all understanding.
Joanne (Pentland) Hammond.
.
— Joanne Hammond

August 2, 2022
Liz was a force of energy,compassion + positivity!!!
She commanded excellence while working w/
Hanover High School Girls Trumpet Band while I was a teen + then I had the privilege of teaching elementary school with her at James A. Magee P.S. in Hanover .
She definitely left the world a better place!
— Jackie Gilbank

August 2, 2022
Sending my deepest sympathy to you Gerry and all of your family. I will always remember Liz from my high school band days.
— Linda Hughes ( Tilker)

August 2, 2022
Our hearts are with you and your families in this time of loss as well as the joyous celebration of the life of such a wonderful lady like "Liz"! Liz will continue to watch over us all and enjoy our life's journeys as we move forward without her and missing her dearly and keeping her in our thoughts and hearts.
Sincerely,
Joe and Bonnie Rands

— Joe and Bonnie Rands

August 2, 2022
Grace Ann, Elaine and families…so sorry to hear about your Mom… she was a wonderful lady.. Sending our deepest sympathies.. Cherish your memories 💕
— Brad and Charlotte Reay

August 2, 2022
We are sending our sincere condolences. You are in our thoughts and prayers. Treasure all the good memories.
Linda and Ken Roseborough
— Linda and Ken Roseborough

August 2, 2022
Sending our heartfelt sympathy Gerry and family.
Goldie & Sharon
— Sharon Tilker

August 2, 2022
<<
1
2
>>