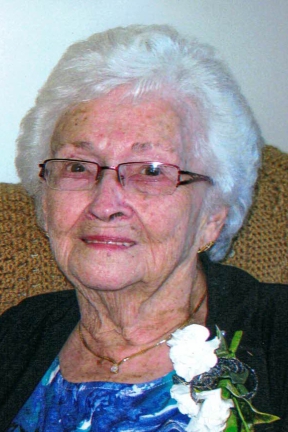 Lois Ahrens
Muriel "Lois" Ahrens, of Hanover, passed away peacefully at Hanover and District Hospital on Thursday, October 27, 2022. She was 99.
Lois was born in Bentinck Township daughter of Wesley and Eva (Barbour) Magwood. She was employed by MacMicking Motors for 15 years, a member of Malcolm Institute, the E.L.W. of St. John's Lutheran Church, Elmwood, the Elmwood Chamber of Commerce and the Elmwood Seniors. She had a talent and love for quilting, knitting, sewing and adorning everyone with her creations.
Mother of daughter Elaine (Larry) Frook of Owen Sound, sons Paul (Louise) Ahrens of RR#2 Elmwood , Glenn (JoAnne) Ahrens of RR#1 Cargill, and her daughter the late Brenda (Wayne) Burrow of London. Loved grandmother of Scott (Angela), Chris (Sue), Jeff (Helen), Leslie (Alen), Michael (Andrea), Bradley, Kristina (Joe), Mark (Emily), Ben, Daniel (Jessica) and John. She adored her great grandchildren: Ginny, Emma, Carter, Mateo, Sofia, Jack, Alexander, Nicholas, Charlotte, Heidi, Simon, Zoe, Oliver, Kylie, Finley and Elinor. She delighted in every visit with her grand and great grandchildren, meticulously remembering every one of their birthdays so you could expect a call or a card for the occasion. Fondly remembered by many nieces, nephews and their families. Forever grateful to the family of the late Rex Luckhardt for their special friendship over the years. Predeceased by her husband Milton, daughter Brenda Burrow and brothers Stuart (Peggy) Magwood, Morris "Nick" (Reba) Magwood and Orland (Gloria) Magwood.
Family and friends are invited to a Memorial Celebration Service held at St. John's Lutheran Church in Elmwood on Saturday, November 12, 2022 at 11am. Cremation has taken place. A family inurnment in St. John's Lutheran Cemetery Elmwood will be held. Pastor Catherine House officiating. There will be a time of fellowship and refreshments following the family's return from the cemetery in the basement of the church. All are welcome.
Memorial donations to the Launch Pad (https://mylaunchpad.ca/), or to St. John's Lutheran Church - Elmwood would be appreciated as expressions of sympathy. Arrangements entrusted to the care of Mighton Funeral Home, Hanover.
Public Condolences
So sorry to hear of Lois' passing. I remember lots of laughter when she was in the room.
- Doug & Judy (Lamont) Freiburger

December 1, 2022
I just found out about Lois's passing . She was a remarkable women it Was a Honor to have known her . My deepest sympathy

- Marie Hammell

November 27, 2022
My sincerest condolences to the family, loved ones and friends of Aunt Lois. I have many happy memories of my aunt with her brothers, including my father, the late Stuart Magwood, in Hanover and area for many years. I have a quilt in my possession that was made by Lois and her friends and it is a source of pride and many positive memories.
- Peter Magwood

November 26, 2022
We are sending our deepest sympathy to the family in the loss of Lois. May your many wonderful memories give you comfort during this sad time.
- Doug and Lynda Legge

November 14, 2022
Sorry for your loss. Many thought and prayers.
- Gloriia & Ernie Falkiner

November 12, 2022
Audrey and family send their deepest sympathy. Lois and Audrey, as often as they could, shared all of the family news and enjoyed chats and letters. She will be greatly missed but dearly remembered.
- Audrey/Lisa Weidner

November 11, 2022
Condolences to the family with the passing
Of lois, thoughts and prayers
- Wilma walsh

November 10, 2022
Thoughts and prayers to the family
With the loss of lois
- Dave Walsh

November 10, 2022
To all the Ahrens family. You have lost a huge piece of your family. May all the wonderful memories of a loving, caring and ever smiling lady stay with you for ever. I enjoyed every moment I shared with her in the Malcolm Womens Institute
Mary Nichols
- Les and Mary Nichols

November 10, 2022
Sorry to hear of the passing of your mother
- John stangler

November 9, 2022
My condolences to Elaine,Paul,Glen, Wayne and families.
So so sorry to hear of Lois passing. Fond memories of her are endless, but one we could always count on - if there was a function at the community centre, Lois would be in the kitchen cooking and serving with a friendly smile and conversation.
Unfortunately l will not be able to attend her funeral as l have another commitment.
My thoughts are with you at this difficult time. Al Monk
- Al Monk

November 6, 2022
Sending condolences to Elaine, Paul, Glenn, Wayne and families. Your Mom was a wonderful lady, so kind hearted and always willing to help. She loved her family, community and church. She had a beautiful smile and was so easy to talk to. She was a very talented lady and made beautiful quilt tops. Hold on to your precious memories!
- Paul and Susan Messerschmidt

November 5, 2022
Our deepest sympathy to the Ahrens family in the loss of your Mom and Grandma.
- Don and Marilyn Emke

November 4, 2022
This is Carol Grahlman Owens writing for my Dad Harold. Dad has been telling several stories about Lois and her family. Dad wanted to send his condolences. Please know that he will not be attending Lois's service but will remember her always.
- Harold Grahlman

November 4, 2022
I would like to extend my sympathy to you all. I feek like I have known Lois most of my life. Your Mom was such an active, kind and caring lady, alwaus ready to pitch in and help. Lois was rarely seen without a smile on her face and genuinely cared avout life around her. God Bless you and yours.

- patricia carmount

November 4, 2022
So sorry for your loss of the most wonderful kind and caring lady and she was truly a lady:) loved when she would come into the shop every Friday she always had something to say that would make me chuckle.
- Kathie D. Parker

November 4, 2022
Our deepest condolences to all.
Treasure the memories 💝
- Gordon and Pat Miskie

November 4, 2022
Hugs to each of you as you mourn the loss of your Mom. What a truly special lady, with a smile and love for life that was contagious to everyone around. Treasure the memories you share and made with her
- Delton and Helen Becker

November 3, 2022
Our condolences to the Ahrens family. Lois was a very nice Lady.
- Bob & Kathy Davis

November 3, 2022
Our heartfelt sympathies go out to the family. Lois was such a beautiful lady inside and out, and raised a wonderful family. I will always be grateful to Lois and the ladies of Malcolm Women's Institute for the dedication in helping to guide my creative path in 4H. She certainly made her mark on the world in a positive and loving way. She will certainly be missed. Cathy and Gary
- Gary and Cathy Lund

November 3, 2022
I am so sorry to hear of Lois' passing. We were neighbours when she moved to 8th Avenue and I could not have asked for a better one. She was kind, considerate, helpful and never forgot my birthday. I will miss her. I pray your wonderful memories of her will help you through this sad time
- Maureen McCullough

November 3, 2022
Our deepest sympathy to the entire Ahrens family in the loss of your beautiful Mom.
Lois was a very special lady and a true friend. Lots of happy memories.
Sincerely Robert and Glenna
- Robert & Glenna Robbins

November 2, 2022
Lois always had a smile and friendly greeting when we met. She will be missed. Our deepest condolences to the entire Ahrens family.
- Brad & Barb Leifso

November 2, 2022
May the memories of Lois' beautiful smile, her laughter and her love, help you through this difficult time. My Deepest Condolences to the Ahrens Family.
- Judy Unruh Perry

November 2, 2022
Dear Ahrens family. Our deepest condolences to you all. Lois was one of our very very favourite people. She never missed calling Al and I on our birthdays and Christmas and Anniversary. What a great lady. She will be missed. Lois is now reunited with the love of her live Milton and her daughter Brenda. Lois you will surely be missed. Hugs and prayers to her entire family.
- Al and Marg Martin

November 1, 2022
Pud and I are so sorry to hear about Lois. She is a dear sweet lady who holds a special spot in our hearts.
- Pud & Sherry Wood

November 1, 2022
My sincere condolences to all the Ahrens family.Lois was a lovely lady I enjoyed my visits with her!
- Deanna Lewis

November 1, 2022
Dear Paul: Audrey and I send our condolences. May you and Louise and your family feel God's strength and comfort as you celebrate your Mother's life.
- Audrey & Barry Mutrie

October 31, 2022
Sending my sincere condolences to all in the Ahrens family. Lois was always easy to talk with, genuinely interested in those around her. Find comfort in your treasured memories during this difficult time.
- Nadine Schwandt

October 31, 2022
I'm so sorry for your loss and I will always remember Lois for her kindness, the sparkle in her eyes when she smiled and her great love for her family…she will be missed x
- Linda Lambert

October 31, 2022
So sorry for your loss. Lois was such a lovely lady. Gonna miss our visits.

- Cathy Tuttle

October 31, 2022