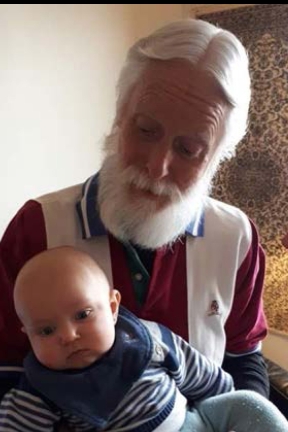 John Craig Williams
John Craig Williams, of Hanover, passed away peacefully at his home on Thursday, December 29, 2022. He was 77.
John was born on September 28, 1945 in the USA. He eventually moved to Canada and settled in Hanover. He had a passion for history and knowledge. He will be missed by many family and friends as well as his work family at Canadian Tire in Hanover.
To honour his wishes, cremation has taken place.
In honour of John's gentle nature and giving heart, please pay it forward in love and kindness to those in need. Arrangements entrusted to the care of Mighton Funeral Home, Hanover.
Public Condolences
So very sorry to hear about John's passing. He was a dear friend and neighbour to my Mom. RIP John, you will be sorely missed.
- Rose

January 11, 2023
John, I am still having a hard time not hearing you call for me when I arrive to work each day but I am lucky to have spent those days with you. Thank you for the shared knowledge and great memories.
- Dan Poirier

January 8, 2023
Sorry to hear i rember seing him in back room at at the store
Thanks for the great memories
He will be missed
- Dan

January 4, 2023
John, you were one of a kind and the sweetest man. From fellow coworker, to friend, to neighbour 15 years was not long enough. We will most certainly miss you. You touched the lives of so many people and will leave a lasting mark on every one of them
I'm sure. Rest in pease.
- Vanessa Steffler

January 4, 2023
So sorry for your loss. John was such a delightful person, I work at Walmart, and whenever he came in he would brighten our day. He always had some kind of wisdom to share. Will miss those little visits!
- Debra Kaufman

January 3, 2023
John always enjoyed the philosophical discussions about life. My two sons Anthony and Adam always enjoyed working with you. Ed King
- ED KING

January 2, 2023
A wonderful individual who I've been able to have a lot of great conversations with over the years. Condolences. He will be missed.
- Cody van der Heide

January 2, 2023
I will miss your smiling face and gentle nature John. Always looked to see if you were working so I could say Hello. Heaven is lucky to have you.🙏
- Marie Fong

January 2, 2023
John, thank you for the positive energy & laughter you brought to work each day. Always being thoughtful, caring and kind. You were the epitome of healthy living and we struggle with your passing. We cannot express how much your Canadian Tire family and customers will miss you.
- The Cousins Family

January 2, 2023
I worked with John for the last 5 years. John was always positive and happy. He was always asking how I was and how my family were. He was a very caring and friendly man. He will be missed!!
- Donna McKee

January 1, 2023
John always made me feel important, always a smile or a kind word. Even after I left we ran into each and we smiled. His joy and kind nature will be missed, we need more people like him. Condolences to all his family.
- Barb Lawrence

January 1, 2023
John and I always had nice conversations every time I was at Canadian Tire. I truly think very highly of John and will miss him a lot. Very sorry for your loss.
- Jeff Bohnert

December 31, 2022
I will truly miss you and our friendship and our morning chats which we tried to solve all the world issues. It was a real pleasure to be called your friend of the 10 years we worked together and always be good memories.
- Don Mauer

December 31, 2022
John you will be truly missed at ctc your knowledge about products and systems was top notch gone but not forgotten
- Richard ermel

December 31, 2022
You will be missed by many. You were always there supporting anyone in need, sharing facts about anything and had a smile that would brighten the day. May you rest in peace my friend
- Helen and Dave Holt

December 31, 2022
Rest in peace John sorry for the family lost
- Eric Michaud

December 31, 2022
My husband who passed away early this year and myself got to know John as we lived in the same apt bldg. He came up to pay his condolences to me, he was so caring, kind and wanted to know what he could do for me. He will be missed in our bldg. Prayers to his family and friends.
- Brenda Harrison

December 31, 2022
This is a shock. We are so sorry about the loss of such a kind man. He was always so nice to us. I started out being his computer guy but that quickly advanced to a friendship because of who he was. This has saddened us deaply. John will never be forgoten. Our love and thoughts go out to everyone that knew him.
- Mark E Gaasenbeek

December 31, 2022
John will be dearly missed by everyone who knew him. My condolences.
- Dwayne Baltzer

December 31, 2022