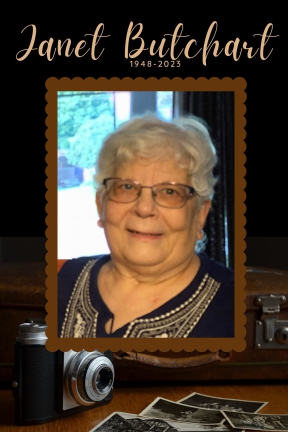 Janet Butchart
Janet Nora Helene Butchart, of Hanover, passed away peacefully at Hanover and District Hospital on Monday, March 6, 2023. She was 74.
Born in Walkerton on March 31, 1948 to the late Noah and Sadie (nee Herbst) Brusso. Janet was in retail for most of her working career. Many people will remember her at Pharma Plus, Rexall, Zellers, Mac's and Hanover Auto Wreckers. Before starting her family she worked in the law office of Glen Crawford. She was always quick to pull out the camera for any event or occasion to capture those special moments, so much so that being behind the camera made it difficult to get a photo of herself enjoying these times. She rarely forgot a birthday or other special occasion, marking the event with a specially selected greeting card.
Survived by daughter Victoria (Craig) Miller of Mineville, Nova Scotia, sons Andy Butchart (Alysa Beirnes) of Hanover, and Matthew Butchart (Darlee Gerrard) of York. Loved grandmother of Dustin and Elouise. Remembered fondly by her siblings Katherine Weber of St. Thomas, Barb (Paul) Foerster of Ayton, Richard Brusso, Kenneth (Linda) Brusso both of Normanby Township and Mary Schlorff of RR4 Hanover as well as her nieces, nephews and their families. Predeceased by her parents, brother Robert (Theresa) Brusso and her brother in law Neil Schlorff.
Family and friends are invited to St. Peter's Lutheran Church - Neustadt for a Memorial Celebration of Life Service on Saturday, March 11, 2023 at 11:00 am. Pastor Fred Ludolph officiating. A reception will follow at the Neustadt Community Centre. Cremation has taken place with a family inurnment in St. Peter's Lutheran Cemetery, Neustadt, at a later date.
Memorial donations to the Canadian Breast Cancer Foundation or to GBHS - Oncology Dept. would be appreciated as expressions of sympathy. Arrangements entrusted to the care of Mighton Funeral Home, Hanover.
Public Condolences
I will miss my e-mail correspondence with Janet over the past few years. She never seemed to forget my birthday and I loved getting her cards. She was my favourite person to work the night shift with at Rexall. She was kind, funny, and compassionate.. I will miss her. Many will miss her.
- Joanne Hatt

March 18, 2023
Our deepest sympathy Janet will be missed
- Randy and Vicki Dickert

March 16, 2023
So Sorry to hear about Janet. Was a great neighbour many years ago on 12th avenue in Hanover. Remember the good times you had together
- Gary Gravett

March 11, 2023
Deepest condolences to Janets family. She was a good friend and we shared many laughs together while working at Zellers. Janet you will be missed. June Bullock
- june bullock

March 11, 2023
Sending Deepest Sympathy to Kathy and the Brusso Family in the loss of a dear sisiter Janet. So sorry to hear the sad news. You are all in my thoughts on this special day. Hugs and Blessings
- Carol / Eldon Wettlaufer

March 11, 2023
Deepest condolences to the family. Janet was always so friendly and will be greatly missed
- Brenda & Bill Campbell

March 11, 2023
Our condolences to the family. She was a good Mom.
- ED ROUSE

March 11, 2023
So sorry for the loss of your Sister, Mother and Grandmother. I enjoyed working with Janet at Zellers. RIP
- Janice Woods

March 10, 2023
So sorry to hear about your Mother's passing. Your Mom was such a kind loving person. You have our Deepest Sympathy!
Gerry and Marj Herman
- Marj Herman

March 10, 2023
We are sending our deepest sympathies to all of the families.
- Janice Weishar

March 10, 2023
We are sending sincere condolences to all Janet's family and friends.
Our thoughts and prayers are with you.
Treasured memories of Janet will remain forever.

from family of Lovina Rutz ( Herbst )
Julianne (Julie) McKechnie nee Rutz ( Waterloo )
Janet Hunt nee Rutz ( Toronto )
Frank Rutz ( Kitchener )
- Julianne McKechnie

March 10, 2023
It is with deep sadness to learn of the passing of a sincere kind lady. My memories from, childhood on, always where of a happy smiling cousin. Condolences to Vicky, Andy, Matthew and all the Brusso families.

Pat (Herbst) Murphy

- Pat Murphy

March 10, 2023
My deepest sympathy to Vicki, Andy, Matthew and grandchildren. Janet was a special friend and a great employee. Her warm smile and funny jokes will be missed by all who knew her.
- Linda Parlee

March 10, 2023
Vicky, Andy & Matthew. Our sincere condolences on the loss of your Mom. We got to know your Mom through hockey many years ago and shared many good times and laughs. Always enjoyed meeting up with your Mom at Zellers and the Pharmacy. She was a great lady and will be missed by all who knew her.
- Harold & Heather Fleet

March 9, 2023
My sincere sympathy for your loss of a mother, grandmother and sister. I have known Janet since our days as teenagers at Luther League. It was always a pleasure chatting and getting caught up on news when we met at one of the stores she worked. She was a lovely lady.
- Bryan Schenk

March 9, 2023
My sincerest condolences to Vicky, Andy, and Matthew on your Mom`s passing. Janet was a wonderful lady-----always friendly and with a smile when I saw her at Zellers, Mac`s, and Pharmasave.
- Lorraine Weiler

March 9, 2023
Our deepest sympathies to all of the families…hugs and prayers 💞🙏🕊️
- David & Shawna Grein

March 9, 2023
I knew Janet from St. Peter's Lutheran Church. She was a nice lady, friendly, and always said hello. I attended Sunday school with her daughter Victoria. My condolences to Victoria and the entire family. May God be with all of you during this time.
- Randy Allensen

March 9, 2023
I deeply miss being your neighbour, Janet. I will surely miss you.
- Lorraine Weiler

March 9, 2023
So sorry to hear of your loss. The Brusso family brings back many good memories. God's blessings be with you at this time of grief and sorrow.
- Gary and Heather Schenk

March 9, 2023
Deepest Sympathy Vicky Andy and Matthew. Your Mom will be missed by all who knew her. Her wonderful personality and laugh we will always remember. May the Lord comfort you in this time
- Robert and Maureen Butchart

March 9, 2023