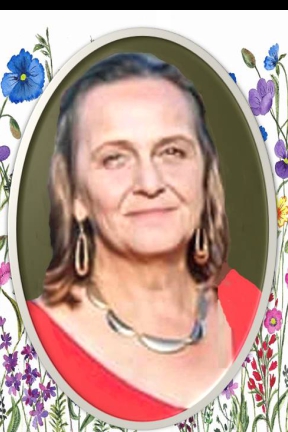 Jane Leroux
It is with great sadness that we announce the passing of Jane Margaret Leroux on June 25, 2023 at the age of 64. Jane was born in the home her father built on December 20, 1958 in Pointe Au Baril, Ontario. She was the 13th of 14 children to the late Julia (Kyle) and Albert Leroux.

She will be missed by her siblings: Georgina (Roger), Michael (Gail), John (Dorothy), Leo (Sandra), Mary Ann (Eric), Peter (Laurie), Nancy (Fred), Patrick (Jeannette), Roger (Sherry) and Margaret (Ken). Predeceased by brothers Steven, William (Alice)(Shirley) & Robert (Nancy).
She raised 5 kids on her own and will be missed terribly by them: Melanie (Jennifer), Shawn, Steven, Kyle (Maighan) and the late Travis (Christa). Loving granny to Kayla, Aidan, Landon, Jaxson and Madsen.
With an exceptional amount of nieces, nephews and cousins who are grateful for a great aunt, friend, confident, and second mother. Always and forever their favorite.
She will be deeply missed by all of her friends and extended family, as well as the dozens of her children's friends who came through her home on a daily basis.
In any adversity she still stood tall and looked after everyone. She always had their best interest at heart with her honest and blunt advice. Family was always greeted with scents of flowers, their favorite meal, big hugs with a "hello sweetheart." Janie carried on with planning the family reunion year after year because family was everything to her.
She even helped plan her own living memorial, so her family had a chance to say goodbye and share memories and stories with her.

A visitation will be held at Mighton Funeral Home in Hanover, on Friday, June 30, 2023 from 2-4pm and 7-9pm. A funeral service will be held at the Hanover Missionary Church on Saturday, July 1, 2023 at 11am. Friends and family are welcome join Jane's family at McGowan Falls in Durham after the funeral service.
VIDEO: Tribute Slideshow Video
Public Condolences
So sorry for your loss Leo. Please pass our condolences to the rest of the family.
Pam & John
- John & Pam Dolson

July 11, 2023
Dear Leroux Family,

I am so sorry to hear of Janes passing. My thoughts are with you at this very difficult time. Please accept my deepest condolences. Jane was a wonderful person and will be greatly missed. May your memories of Jane bring you peace and comfort today and in the days to come.
Deepest Sympathies,
Gary Masters & Family
- Gary Masters & Family

July 1, 2023
Our condolences to Jane's immediate and extended families.
- Barb and Ken Leitch

June 30, 2023
I'm so sorry for your loss. I will miss Jane.
She was kind , funny and always generous with her time .
She will be missed.
- Joan Myles

June 30, 2023
Shawn, Georgina, Mike, and family, we send our sincere condolences on Janie's passing. We knew her as a strong, quirky, and resilient character whom we were always delighted to connect with around town. The fabric of our village is less the richer for her loss. - Anna and Linda
- Anna Allevato &Linda Graff

June 29, 2023
My heart felt sympathy goes out to all of you. May you find peace with your memories of Jane
- Darlene McGann

June 29, 2023
My thoughts and prayers are with Jane and all of her family. She will be missed.
- Trina Ord

June 29, 2023
Sincere Condolences to all of the Family from the Ronan family

- Marc Ronan

June 29, 2023
It was wonderful reconnecting with Jane over the last few years. We shared some laughs, childhood memories, a few hugs and some tears too. She brightened my day no matter what the circumstance. My deepest sympathies to the Leroux family for her loss. I know she will be terribly missed by all of you.
- Jane (Dwinnell) Orr

June 28, 2023
Sadness prevails once again in the little village of Pointe au Baril with the passing of Jane Leroux. Our thoughts are with all of her families.
- Paul and Karen Penfold

June 28, 2023
Oh Jane ๐Ÿ'"
I felt your pain when we held each other tight , at the post office , exchanging our most deepest feelings and thoughts , I will always remember your words
RIP ๐Ÿ™
Donald and I send all your family our deepest condolences.






- Nancy Scale

June 28, 2023
Our thoughts and prayers are with you all at this sad time. We are all going to miss Janie.
- Grant & Catherine Frook

June 28, 2023
My favourite memory of Janie was about 10 years ago and I had stopped to visit her on my way to Sudbury. She was so flattered and humbled that I had stop to visit her. We had such a great visit and i wish I had the opportunity to do it again one more time. My heart goes out to all of the Leroux family. Thinking of you all xoxo
- Wanda Simpson

June 27, 2023
My sincere condolences at your heartbreaking loss of Janey.

We loved our time with her at Point Pleasant Marina.
A wonderfully warm and caring woman.
Always a smile!
- Julianne Desmarais

June 27, 2023
I send my deepest sympathy in this time of sorrow. The Bible gives a comforting hope and promises that your loved one will soon live again in a peaceful paradise on the earth when death will be no more. (John 5:28, 29; Revelation 21:4)
- Gale Ellis

June 27, 2023
My sincerest condolences to all of the Leroux family. Janie was one of a kind. She was an honest, loving person and I am sad that she is gone and I didn't get to see her one more time. Her hospitality and generous spirit will be greatly missed. Love you, Janie!
- Anne Marie Essaunce

June 27, 2023
Love our Auntie. With all my heart โค๏ธ
Mel, Shawn, Steven, Kyle. Words aren't enough. I am so so sorry for the loss of your mother. Xxoo.
- Christine Predhomme

June 27, 2023