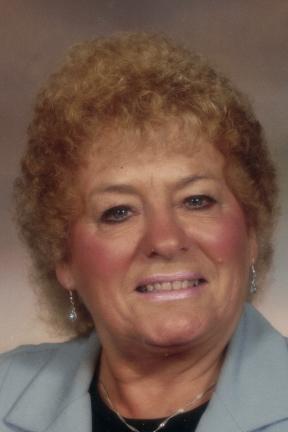 Betty Ahrens
Betty Marie Ahrens, of Markdale, formerly of Ayton, passed away at Grey-Bruce Health Services, Owen Sound on Saturday, July 15, 2023, in her 96th year.
Born in Normanby Township on October 16, 1927, to the late Edgar and Mary (nee Kraft) Maes. Betty was a fun-loving and spirited lady that lived life to the fullest, always ensuring to have some fun along the way. She loved music and dancing, and had a gift for playing music by ear on the piano and harmonica. She loved getting dressed up and going out, loved shopping, and enjoyed the various cars she owned over the years, from her convertible to her jeep. She always enjoyed social outings, and was involved in curling, bowling, music jamborees, and snowmobiling. Above all else, she had a deep love for her family, and was always trying to ensure everyone had a good time. She will be missed.
Survived by her children Mary Lou Pfeffer of Ayton, Deborah (Dale) Schnurr of Bayfield, and Janice (Luc) Jacobs of Cayuga, and daughter in-law Geraldine Ahrens of Waterloo. Cherished grandmother of Trevor (Christine), Jason (Kristal), Tricia, Julie (Kevin), Steven (Ashley), Scott (Sherry), Christina (Ian), Michael (Ashley), Bill (Miki), Ashley (Matt), and Andrew (Samantha), as well as 25 great grandchildren, and 1 great great grandchild. Loving partner of Arley Morran of Markdale. Fondly remembered by many nieces, nephews, and their families, many close friends, and Wayne Pfeffer of Ayton. Predeceased by her husband Louis, son John, grandchildren Cale Jacobs and Robert Schnurr, and siblings Edna (Henry) Weltz and Herman Maes.
Visitation will be held at Mighton Funeral Home, Hanover, on Thursday, July 20, 2023, from 5-8 pm. A Funeral Service will be held at Trinity Lutheran Church, Ayton, on Friday, July 21, 2023, at 11 am. Interment in Trinity Lutheran Cemetery, Ayton.
Memorial donations to the Heart and Stroke Foundation, Trinity Lutheran Church – Ayton, or a Local Food Bank of your choice would be appreciated as expressions of sympathy.
Public Condolences
Betty and I worked together years ago
I remember the fun we had , always joking around and a smile on her face
She spoke often of her family and was very proud of all of them
She was a wonderful lady , she will be missed
To the family … may you find comfort in your memories
My sympathy to all
- Diane Keeling

August 12, 2023
Debbie, Dale, and All your Families, and Arley,
Sending my sincerest condolences to each of you.
I have had many conversations with Betty over the last 20 years at least, at
work and while out and about. She was always smiling and strutting about all dolled up. She loved her Family dearly. Usually someone would come up in a conversation.
I never thought when we spoke on the 12th at the restaurant that would be our last visit. She had had her operation and was eager to tell me all about it. She had concerns I know.
But Friend you made it into your mid 90's...that itself is an accomplishment and had many good times.
Hold onto memories of fun times with Betty, stories, warm hugs, laughter, smiles, and these will help you along days ahead.
Rest in Peace Betty.
Gail and Terry McCauley
- Gail McCauley

July 22, 2023
To the Ahrens family and Arley; We extend our condolences to you in your loss.Betty and I tried very hard to get together for a piano and a sing a-long having met many times at restaurants ( like Zellers and Cravings) but it never happened.Do take care and we hope you are all well.Bill and Marlene Douma.
- Marlene Douma

July 22, 2023
Janice, Debbie , Mary Lou.and families...sending our deepest sympathy
- IVAN R MONK

July 22, 2023
Our deepest sympathy to on your loss, Debbie and to your family as well.
She always seemed to be having fun no matter what she was doing.
She will be missed.
- Bruce and Bev Gateman

July 21, 2023
My most heartfelt sympathy to the family. Was glad to have had a wee visit with her a few weeks ago. RIP Betty.
- Mary Domm

July 21, 2023
Dear Mary Lou, sending sincere condolences to you, your siblings and your children at this difficult time. I will remember your Mom as a classy one of a kind fun loving person and her wit shines thru in you and your family. May she rest in peace. Kathy Russwurm
- Kathy Russwurm

July 20, 2023
To the Ahrens Family I wish to express my condolences on the passing of your Mother & Grandmother. Betty was such a vibrant, super person. She was so full of energy and spread her good cheer wherever she went. I know she will be missed by her Family and many Friends. My thoughts and prayers are with you.
- Marlyn Howard

July 20, 2023
So sorry for your loss Janice and Debbie your mom was a amazing person many of fun times growing up at your parents house thinking of yous all thought this difficult time my condolences to yous and your family
- Nancy (Bennett) and Patrick Reardon

July 20, 2023
Dear Mary Lou & family, so sorry to hear about Betty's passing. She was a lovely lady who always had a smile and great conversation; enjoyed our chats. She will be missed, cherish your memories. Thinking of you at this difficult time and praying you'll find peace and comfort in the days ahead.
- Janice & Brian Duncan & Family

July 20, 2023
Dear Debbie,
So sorry to hear about your Mom. It was really nice to see you at the end of June and we talked about your Mom. She was a special lady who was always so friendly and took time to make sure her appearance was pleasing, especially her makeup.. Hold on to those precious memories! My sympathy,
Susan Messerschmidt
- Susan Messerschmidt

July 19, 2023
Dear Arlie - Sorry to hear of your loss. (String bean) I know if Bev was still here, she would join me in these messages. From the folks at the Lucknow Fiddler's Jamboree. Annie P.
- Annie Pritchard

July 19, 2023
To the family- I am sorry to hear of the passing of your beautiful mother. My mother often spoke of Betty, Herman and Edna as she spent time as a child visiting her cousins on the farm. She spoke of many good memories.
Your family is in our thoughts at this time as you say good-bye to your mom. Cherish the many memories of a life well lived.
Dona Simpson (Irene (Maes) French's daughter)

- Dona Simpson

July 19, 2023
No words can express whatI know you are feeling, love you lots Janice, Luc and family , love Karen, Tim amd family xoxo
- Karen,Tim and family

July 18, 2023
Dear Mary Lou & Family. Ken & I are so sorry to hear of Betty's passing. We knew your Mom from our Friday night Bowling League, way back in the day. She was such a lovely lady, always smiling and interested in what you had to say. Thinking of you all, as your mourn her passing.
- Ken & Shelly Plantz

July 18, 2023
Debbie - So sorry to hear of your loss. My condolences to all your family.
- Bonnie Miller

July 18, 2023
SO SORRY TO HEAR MARY LOU AND FAMILY. THE PASSING OF YOUR MOTHER. OUR DEEPEST CONDOLENCES TO YOU AND YOUR FAMILY AND HUGS AND LOVE DURING THIS DIFFICULT TIME
- Kathy Becker

July 18, 2023
Our sympathy on the passing of your Mother, Betty. She will be remembered for her joy of life and will be missed by everyone who knew her.
Al & Lorraine
- Al and Lorraine Morrow

July 18, 2023
My deepest sympathy to Mary Lou, Debbie, Janice and all your families on the passing of your Mom. I can fondly remember my time spent for many summers on Grandpa's farm across the road from Aunt Betty and Uncle Louis. I remember coming over and helping with the chores the odd time. Always a pleasant place to be and it was evident even back then in the 50's & 60's your mom loved children and loved to cook. Fond memories in deed that I will carry with me until it is my time to move on. from Don
- Don & Betty Weltz

July 18, 2023
Mary Lou and family: So sorry to hear of Betty's passing. So many fond memories from Ayton.
Condolences from the 5 Becker girls. (Bonnie, Brenda, Bev, Belinda and Bea).
- Brenda Allen (Becker)

July 18, 2023
Mary Lou and family: So sorry to hear of Betty's passing. So many fond memories from Ayton.
Condolences from the 5 Becker girls. (Bonnie, Brenda, Bev, Belinda and Bea).
- Brenda Allen (Becker)

July 18, 2023
Dearest MaryLou and Family….Prayers and deepest condolences to all the family in the passing of your beautiful, vibrant mother ! May your memories and knowing that another piece of your heart is living in heaven carry you through your time of sorrow. May God give you all the strength needed to help get you through the next few days and everyday thereafter. I know you'll always see that wonderful smile with every thought of Aunt Betty, just as we always remembered her !!!!

Love to all Doug & Sue
- Doug and Sue Weltz

July 18, 2023
Mary Lou and Family. Our deepest sympathy to you. Your mom was a very social and loving women. Always greeted you with that charming smile. You will have many loving memories to cherish.
- Jim & Joyce Nuhn

July 17, 2023
Debbie and whole family, I am so sorry for your loss.
- Dorothy

July 17, 2023
My deepest sympathies to the entire family. May your wonderful memories bring you comfort and solace at this difficult time. 💖
- Wilken Jeannette (Ahrens)

July 17, 2023
Hi Mary Lou. Linda and I wish to say our condolences to you and your family.
I remember the fun we used to have at the Ayton Curling Club and your Mom was always a great cheerleader. Oh !!! those were the good old days. May her memories be a blessing for you.
Jim and Linda Palmer
- Jim Palmer

July 17, 2023
Dear MaryLou and family, what a shock to hear of mom's passing. She was larger than life itself, and such a classy, vibrant woman! May you hold all the good memories in your hearts, where her love will live forever. I feel privileged to have known her. Praying comfort and peace for you all.
- Pastor Heather Spencer

July 17, 2023