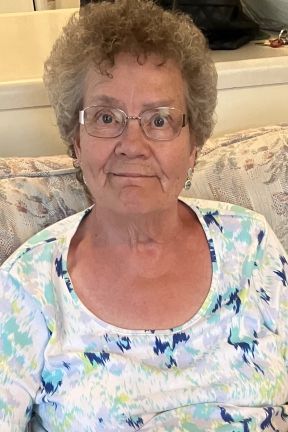 Grace Newton
Grace Mabel Newton, of Hanover, passed away suddenly at her residence on Monday, August 28, 2023. She was 70.
Born in Walkerton, Ontario, on December 25, 1952, to the late Roy and Esther (nee Klaholz) Newton. Grace was a kind and quiet lady that enjoyed the simple things in life. She enjoyed spending time with family and friends, especially her dear friend Norma Leoprich. Grace would often help Norma and others with events at the local Hanover Legion. Grace also had a love for her 'fur babies' she had over the years, and will be missed by her cat 'Gilbert'.
Survived by siblings Diane Hanna of Listowel, Cathy (Peter) Burwell of Staffa, Bradley (Susan) Newton of Listowel, and Sharon Newton of Stratford. Remembered by her sister in law Jane Newton of Hanover. Fondly remembered by many nieces, nephews, and their families, and many dear friends. Predeceased by her sister Janice (Bill) Small and by her brother Mervyn Newton.
Visitation will be held at Mighton Funeral Home, Hanover, on Friday, September 1, 2023, from 10-11:15 am, where a Funeral Service will follow at 11:30 am. Pastor Rinas officiating. Interment in Lauderbach Cemetery.
Memorial donations to the Grey Bruce Animal Shelter or to the Heart and Stroke Foundation would be appreciated as expressions of sympathy.
Public Condolences
Sure going miss her going to the grocery store. I used to see her there and I said hi to her and she said hi to me. It really hit me pretty hard when I heard that she had passed away.
- Dawn lake

September 8, 2023
Deepest sympathies to Grace's family and especially to Norma. Grace was such a friendly, kind lady. She will be missed by everyone who knew her. Joan (Spielmacher) & Ted
- Joan Debrusk

September 2, 2023
What a beautiful lady Grace was! Pleasant, caring and loving. She will be greatly missed. Thinking of you all.
- Mullen Small Animal Clinic

September 1, 2023
My sincere condolences to graces family we worked and had a lot of fun together
for a lot of years will miss her smile and laughter eileen
- Eileen Smith

August 31, 2023
My condolences to Grace's family and friends, especially Norma. RIP Grace. You will be missed
- Tish Hubbard

August 31, 2023
We have had many good times and chats with Grace over the years, she was someone great to know, will be missed by many. Jackie/Ron
- Jackie Wiggins

August 31, 2023
I will remember Grace fondly. I lived across the street from her. My heart sunk when I saw the ambulance there the other night. I knew God had taken her home :( I will miss seeing her out pruning flowers in the morning. I never saw that woman without a smile. She was a beautiful woman inside and out.
My deepest heartfelt condolences to her Family & Friends.
RIP Grace🙏
Heather Fraser

- Heather Fraser

August 31, 2023
Sorry for your loss worked with Grace a lot of years
- Janice stangler

August 31, 2023
My deepest sympathy to friends and family
- Helen martin

August 30, 2023
Grace was a special lady and will be greatly missed by all that had the pleasure to know her. I will cherish my memories of her. Deepest condolences to her family. Hugs.
- Norma Schank

August 30, 2023
Rest in peace Grace, you will be missed. Another empty chair at our ECL lunches.
- Diane Weick

August 30, 2023
My heart is heavy for your loss. Gracie was an amazing woman who brough smiles and laughter to so many. I had the pleasure of working with her and consider myself blessed to have known her. Rest easy Gracie, share your smiles and laughter in the clouds.
- Tammy Louther

August 30, 2023
Please accept my condolences….
- Doug G Cameron

August 30, 2023
Deepest sympathy to Grace's family. She is a second cousin of mine. She lived at our house for awhile when we were both very young. Everyone in heaven will be glad to see her.
- Evelyn (Yenssen) Fetter

August 30, 2023
To Grace's family, I am so very sorry for your loss. Grace will be missed by myself and everyone at Hanover legion. I looked forward to sitting with her when she was there. She was such a sweet caring lovely person. There will be an empty place at the table every time I go into the legion. Rest in peace dear friend.
- Noreen Ellis

August 30, 2023
Heartfelt Sympathy to all Grace's family. She was truly a great friend. We worked together for many years.She will be missed!
- Judy Schmidt

August 30, 2023
My sincere sympathy to Grace's family. Remembering her from our school days at S.S.#9 in the country school next to the Lauderbach cemetery. Grace and I where the only two students in Grade 3 that year. Just saw her a few weeks ago. Gone too soon!!!
- Darlene Rhody (Pries)

August 29, 2023
I will miss talking with Grace, when she came I to Hanover Foodland. Loved her smile. RIP Grace. You will be missed.
- Marg Martin

August 29, 2023
My deepest condolences to the family
- Brenda Campbell

August 29, 2023