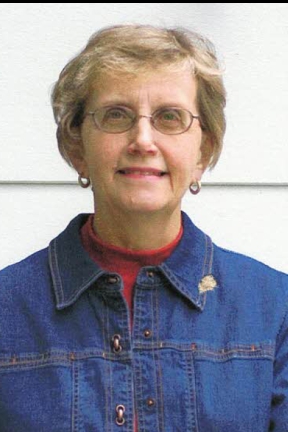 Donna Maine
Donna Carol Maine, of Ayton, passed away peacefully at Caressant Care Long Term Care in Listowel on Thursday, October 19, 2023. She was 80.
Born on February 22, 1943 to the late Ellis and Jean (nee Carruthers) Weber. Donna enjoyed the hard work of farm life and even more raising her children. She was a devoted and caring teacher. Donna instilled values and ethics that continued on through her children and family and could be seen in the way her students carried on through their life. She was a dedicated volunteer, offering her time to The Village Seniors Community as well as for over 20 years with the Alzheimer Society, participating in all their walks. She will be missed by her special group of friends, "The Rat Pack" and would enjoy her time spent reminiscing.
Survived by devoted daughter Michelle Maine of Ayton. Fondly remembered by her sister in law Eileen Weber of Thornbury as well as nephews Terry and Raul Weber and Randy and Tracy Weber and their families. She will be treasured by her first cousin Sonya and Ron Ward. Predeceased by her beloved husband William "Bill" Maine (2000), her son Gerald (1994), son in law Thomas Moon as well as her brother Leith Weber.
Family and friends are invited to Visitation held at Mighton Funeral Home, Hanover, on Sunday, October 29, 2023 from 1pm until time of a Memorial Celebration Service at 2:00 pm. Pastor Lyndsay McGregor officiating. Cremation has taken place with a private family inurnment in Union Cemetery, Thornbury.
Memorial donations to the Alzheimer Society would be appreciated as expressions of sympathy.
VIDEO: Tribute Slideshow
Public Condolences
I'm very sorry for your loss. Donna was a lovely person and an especially special teacher. My daughter Kelly and several of her friends had the pleasure of having Donna as a teacher in the gifted program from grade 5 on. She gave them the confidence ce that they could do anything. One of her friends is a physiotherapist,another a biological engineer and kelly is a special teacher as well. She definitely left her footprint on this world. 🙏
- Lynne Heffernan

November 9, 2023
Donna was one of my favourite teachers. She treated all of her students as though they were fully formed young adults. She encouraged us to do our best and required us to work toward what she knew we were capable of achieving. I remember her saying "we learn to read by reading and we learn to write by writing". Donna definitely inspired me as a teacher when I reflected back upon the warmth and respect she showed all of her students. She will be sincerely missed but fondly remembered.
- Heather (Fleming) Bender

November 1, 2023
Sorry to hear about Donna, we are thinking of you all at this difficult time Lisa, Joe, Matthew and Nickolas Ernewein
- Lisa Ernewein

October 31, 2023
My sincere condolences to all the family... Donna was a very thoughtful and caring person and will be missed by many.
- Colleen Weber

October 29, 2023
My wife Arlene & I were so sad to hear about Donna. She was a special lady and a special teacher. When I began my teaching career in Ayton many years ago, Donna was someone I really looked up to. She lead by example seeing the potential in all of her students and helped them succeed to the best of their abilities. After retirement, we always enjoyed her 'Lunch Bunch' get-togethers at various locations. Donna always saw the importance in helping people stay connected with each other.

May the love of your family & friends and your wonderful memories help you through this very sad time.
Rick & Arlene Henry
- Richard Henry

October 28, 2023
I am so sorry for your loss. Looking back, I know that grade 6 changed the whole trajectory of my life and I will be forever grateful for that. She was undoubtedly the best teacher I ever had. Thank you Mrs Maine for making a difference.
- Kerry Ammerman

October 27, 2023
Michelle;
Our deepest sympathy to you. Donna holds a very special place in our hearts, we won't forget her thoughtfulness and the many ways she showed us she cared. She did so much for her friends and community. I'll never forget her smile and infectious laughter. As a teacher, she was a role model and provided so many students with an exceptional education. She is dearly missed and will always be remembered. Our thoughts are with you at this time and in the days ahead.
- Janice & Brian, Sabrina & Curtis Duncan

October 26, 2023
Michelle, your mom was a very nice lady and cared a lot about her students, local history, and of course her cats. Deepest sympathies.
- Kent Charlton

October 25, 2023
Sincere condolences. Donna was such a lovely person
Karen Creighton
- Karen Creighton

October 24, 2023
Sincere condolences to her family - what a wonderful lady

- Gaye Ennett

October 24, 2023
Michelle and family,
As we journey through life, we are blesssed at times to brush up against people who take up residence in our heart forever. Donna Maine ( Mrs Maine) was my elementary teacher for two years at Normanby central and despite 23 years spent in the academic setting, she was and will always remain my most cherished teacher. Her passion and desire for each child on her attentive watch to succeed were palpable attributes. She respected and believed in her students, laughed easily but knew how to challenge in a creative and careful way. It was her warmth and wisdom that made you want to learn and to explore things beyond your comprehension. I believe that to invest in children and selflessly, patiently demonstrate through example how truly empowering it is to learn; is one of the most noble professions. Donna Maine moved and taught and inspired generations of children. She was so loved in this lifetime. The world is less without her in it.
- Dr. Barbara Anne Matthews

October 24, 2023
Sorry to hear about your mom's death. She was a wonderful lady and teaching mentor. She was quite an example for students, parents and teachers that she came in contact with.
- Ron & Janice McGuire

October 22, 2023
Michelle ... I am so very sorry to learn of your mother's death ... she was a lovely person ... I always enjoyed our conversations in the bookstore, especially about her trips with Elderhostel (now Road Scholar) ... and l always supported her participation in the Alzheimer's walk ... my heart is with you as you mourn her passing ...
- Alison Greenaway Coates

October 22, 2023
Sincere sympathy to Donna's family. She was one of my favourite teachers.
- Sandra & Richard Ermel

October 22, 2023
My deepest Sympathy. Mrs Maine was the greatest teacher ever. If you had Mrs Maine in your senior year at Normanby Central....you knew you would have a great year.
- Lorri Grein (Copeland)

October 21, 2023
Our deepest sympathies to the family, sending prayers and love 💞🙏🪽
- Shawna & David Grein

October 21, 2023
My deepest sympathies to the family, she was a great lady
- John Russwurm

October 21, 2023
So sorry for your loss Mrs Maine was my favourite teacher
- linda wettlauferMy deepest

October 21, 2023
Our deepest sympathies to Michelle and family. Donna will be greatly missed. Our thoughts and prayers are with you during this difficult time.
Alvin, Dale and Joan
- Dale & Joan Hershey

October 20, 2023