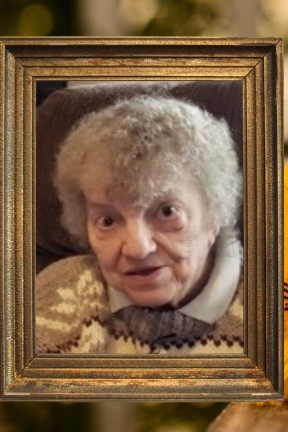 Lois Munro
Lois Jean Munro, of Hanover, passed away peacefully at Hanover and District Hospital on Friday, October 27, 2023. She was 83.
Born in Hanover on January 23, 1940 to the late Ivan and Norma (nee Weber) Alexander. Lois was employed at a variety of places like Buckeye Factory and Triangle Discount, but her favorite career was raising her children along side of her husband Alan. Through the years, she overcame a lot and her health continually declined after the passing of her husband. She could be found as her son Jim's right hand woman while he was on duty for deliveries. She enjoyed the drives and all the people she met along the way. She had a great smile and passed along great values and memories to her children...including her poking your ribs to tease you to make you smile.
Survived by son Jim Munro of Hanover, daughters Wendy (Peter) Reed of Owen Sound and Mary (Keith) Henderson of Barrie. Special grandma of Christopher (Ashley), Jessica, Amanda (Shawn), Ryan (Amanda), Melissa (Kevin), Alexander and Matthew as well as her 11 great grandchildren. Remembered by her sister Joan Osthoff of Hanover. Predeceased by her husband Alan and her grandson Joshua.
To honour her wishes, cremation has taken place and a private family inurnment will be held at the Hanover Cemetery - Columbarium at a later date.
Memorial donations to the Diabetes Association, Heart & Stroke Foundation or to the Hanover & District Hospital Foundation were appreciated as expressions of sympathy. Arrangements entrusted to the care of Mighton Funeral Home, Hanover.
Public Condolences
Dear Jim, Wendy, and Mary, I am so sorry to hear about your mother's passing. My deepest sympathy to you and your families during this difficult time.
- Keith Chittick

November 6, 2023
Jim sorry for the loss of your mom .She was a wonderful lady, and she will be missed dearly

Rose Weber
- Rose

November 6, 2023
Thinking of your family at this time of loss.
Candi (Baird) Jarvis
- Candi Jarvis

November 6, 2023
Jim & family, sorry to hear about your Mom, she was a very kind lady and great neighbour.
- Rose Dupuis

November 2, 2023
M y condolences to Jim and your family at this trying time. Lois and I went to school together many,many years ago. You will be in my thoughts and prayers.
- Gloria Chesney

October 31, 2023
Sorry for your loss
- Darlene Weltz

October 30, 2023
Jim so sorry to hear about the passing of your mom..She was a wonderful woman and 7th. Ave neighbor..
- Wayne Scheifele

October 30, 2023
Jim and family. Our deepest sympathy. Paul and Pat Heimbecker
- Pat Heimbecker

October 30, 2023
Sending our sincerest condolences to Jim and the entire families. May you find comfort in your memories. Hugs
Chris & Bruce Yates


- Chris Yates

October 30, 2023
My deepest sympathy to the family. Lois and Alan and family were wonderful neighbors.
Kathryn Dankel
- Kathryn Dankel

October 30, 2023
Jim:
Please accept my sincere condolences on the passing of your Mother and delivery sidekick...... Keep the memories close and may the memories live on in your heart.
Deepest Sympathy,
Dale
- Dale Kelly

October 30, 2023
SO SORRY TO HEAR ABOUT YOUR MOTHER SISTER AND GRANDMOTHER. SHE LIVED A HARD LIFE NEAR THE END, BUT SHE GOT THROUGH IT. LOVE YOU ALL. DIANE

- Diane (Hastie) Kobe

October 29, 2023
Sorry Jim & families about the loss of your Mom
- Marg Neisen

October 29, 2023
We are sorry for your loss. Sending hugs and keeping you in our thoughts
- Kristin Reed-Johnson

October 29, 2023
My prayers are with you Jim and family. Lois was such a quiet and lovely person. We will all miss her.
- Kay Horan

October 29, 2023
Jim and family sorry to hear about your mom. She was a lovely and friendly lady. R.I.P. Lois.
- Terry Madden

October 29, 2023
Jim and families, so sorry to hear the passing of your mom. She was a great lady. RIP Lois. Prayers 🙏
- Marg and Al Martin

October 29, 2023